Founded in 1980, Renier Construction leveraged both the design-build and traditional, or bid-build, delivery methods to complete projects. With a focus on client experience, budget control and integrity, Renier determined in 1999 that the preferred approach for construction projects would solely be the design-build method for owner-occupied facilities.

This meant Renier could deliver and stay committed to being safe, on-time, and on budget, not most of the time, but always.

We are committed to the design-build process as the best way possible to provide the highest quality at the lowest possible cost. From our headquarters in Columbus, Ohio, Renier has grown with its clients, building facilities wherever they expand in a variety of industries.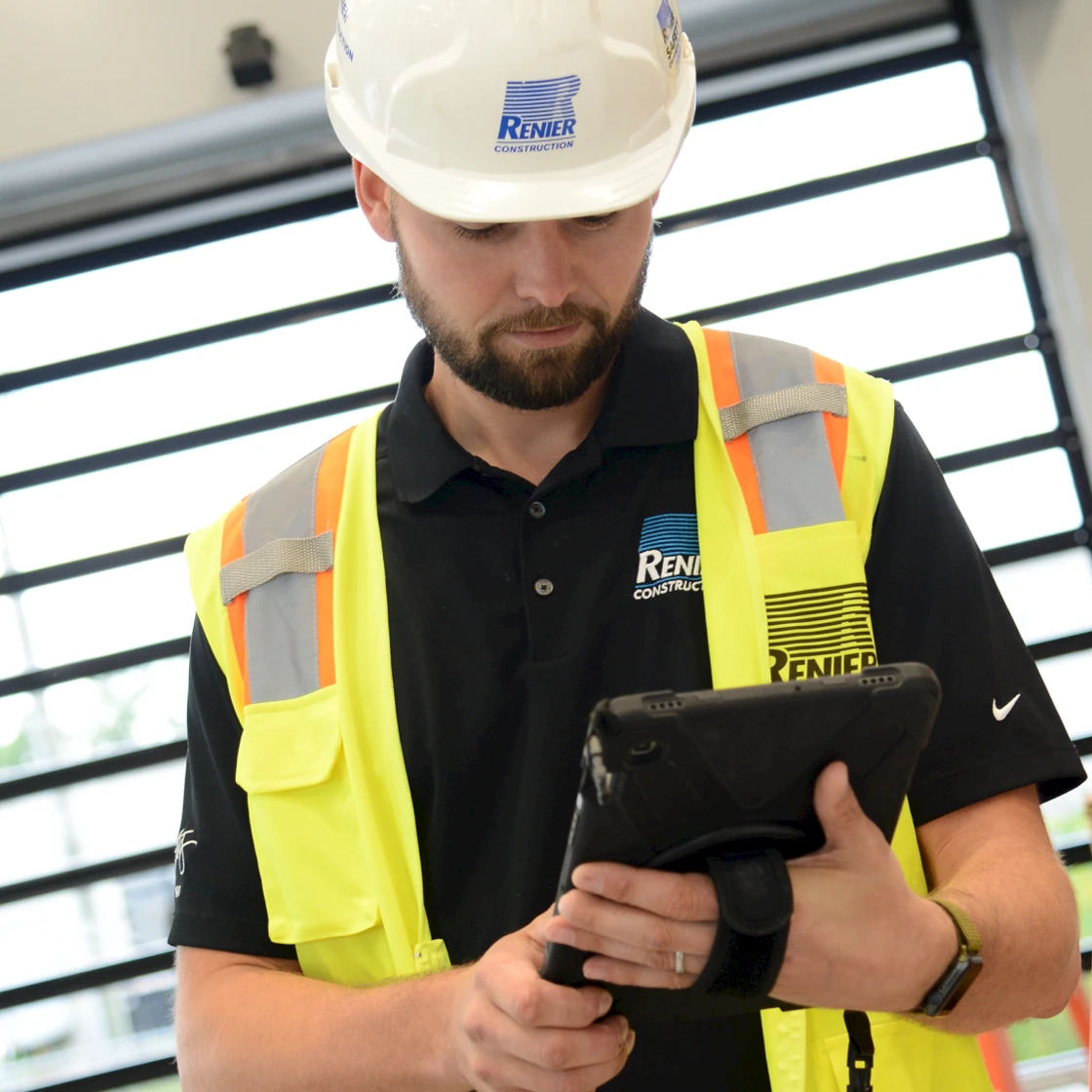 Why Renier?
Performance at
the Highest Level
We are committed to quality construction, at a very personal level, as reflection of our company and all our associates. With over 43 years in business, "Integrity" has themed Renier's company culture since the beginning. The entire team believes and behaves accordingly, always doing the right thing, even when no one's watching.
Our goal is for all our customers to see the difference and benefit from the "Renier Experience."
Our History
We could highlight the various projects we've built over the years or talk about the awards we've won. That just isn't who we are. Our work speaks to our experience and our clients speak to our integrity.
1981
Renier's first employee was hired
1982
Renier receives its first PO for a project. AEP Conesville Generating Station
1983
1st out of state job. Bremco Industries project in Texas, Oklahoma and Kansas
1986
Awarded Million Dollar Builder by Butler Building Systems
1987
1st Car dealership built by Renier – Germain Hyundai
1988
Lionmark Corporate Center is built – Renier's 1st Office Project
1989
First Lexus dealership in the nation is built – by Renier
1997
Renier's first Medical Center/Building Charles R. Porter Company
1997
Receives BBB Integrity Award
1998
Completes 1st project for Dayton Freight Lines in Gahanna
1999
First education project completed – Columbus Academy Administration & Library Building
1999
First restaurant completed – Hoggy's, Polaris location
2000
completes 250th project – Hopkins Printing Company
2015
Renier completes largest project to date – Richfield Bloomington Honda in Minnesota $25M, 165,915 square feet – 3-story automobile dealership
2016
Renier commits to supporting Angelworks Foundations
2018
Procore technology is officially implemented
2020
Renier Custom Division is founded
2021
Renier Earns it's 4th Best Places to Work Award
Our Team
Experienced
Leadership
And integrity. These are traits common to every member of the Renier Management Team. We are committed to quality construction, at a very personal level, as reflection of our company and all our associates. Renier has assembled a team of industry veterans, each with a history of providing the highest quality service to our clients. Reiner's management team sets a solid foundation for the rest of the company's employees.
Safety
Integrating Safety
with Company Culture
We pride ourselves on putting safety at the forefront of each and every project. Because we are a company built on integrity, Renier's executive team has made the safety of all employees the highest priority. Our company's safety efforts are led by Kevin Kenney, Renier's on-staff safety officer. Kenney spends the majority of his time on job sites ensuring that all of our employees, subcontractors, project managers and on-site superintendents are aware of and abide by Renier's safety guidelines.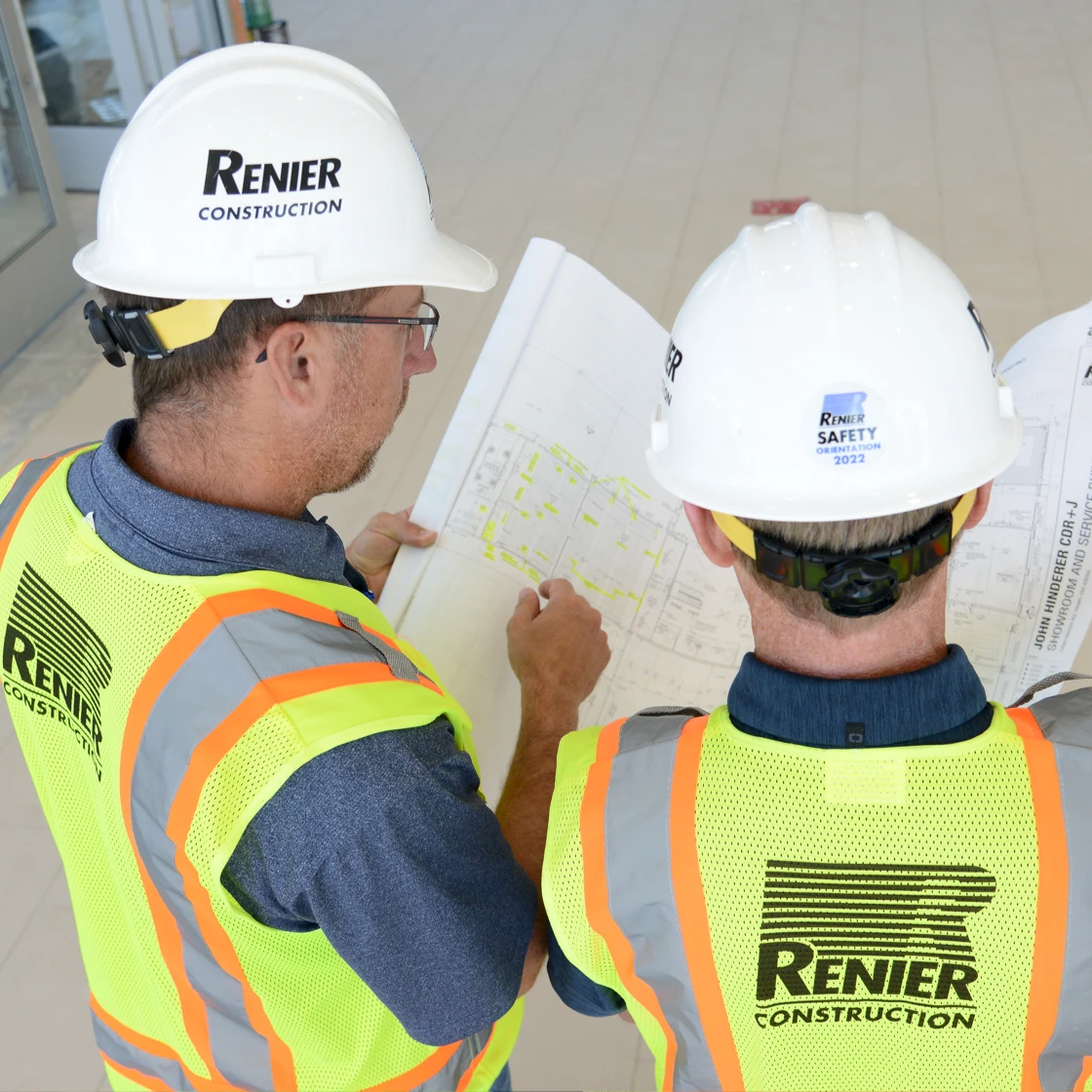 Safety Committee
Continued Commitment to Safety
Our formal Safety Committee focuses on all projects being performed efficiently while never sacrificing safety. The team has three objectives: continue to ensure safety is a part of Renier's culture by involving employees; prompt review of safety incidents and work toward reduction and elimination; conduct surveys to identify hazards and recommend methods for reduction and elimination.

The committee has six representatives – one from each department. Every six months the representatives rotate to ensure new perspectives and total company involvement with investment in the continued commitment to safety.

We're proud of our safety record and want to continue to do all that we can to ensure 100% compliance and safety for our team!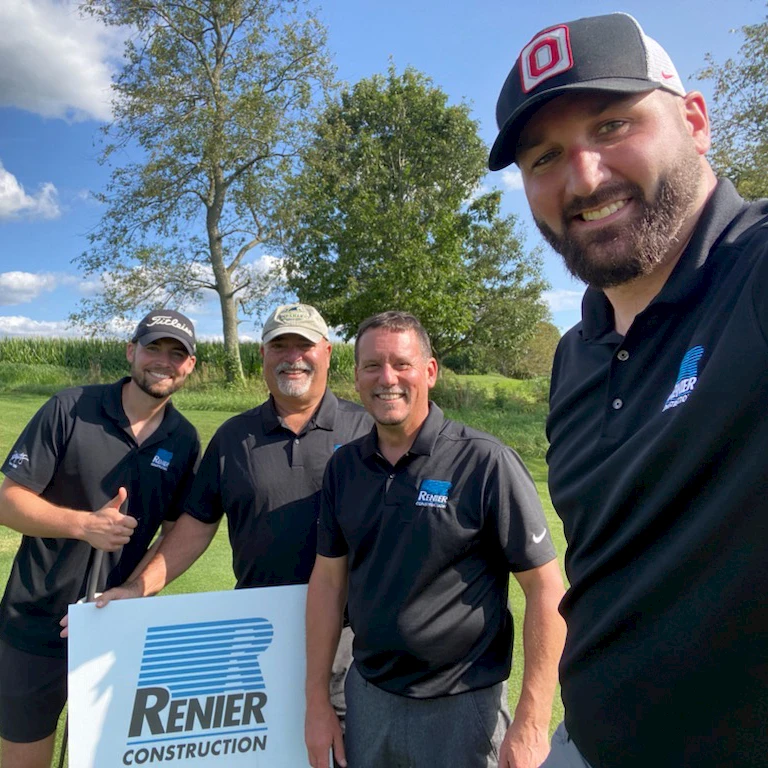 Community
Giving Back to
the Community
Whether it's having our boom truck serve as a stage at the Ovarian Cancer Coalition, or being doused by ice water as a part of the ALS Ice Bucket challenge, Renier has a passion for giving back. In fact, our team participates in local community events for organizations of all sizes, donating time, money, goods and our experience.
Largest project in square feet
Because Renier finished the project four weeks early, it saved us both time and money.
Tom Carpenter
President & Owner, Auto Body Collision & Glass